TIGER WOODS: PHARMACY ON WHEELS
Last week, Tiger Woods pleaded guilty to reckless driving. For good reason. He never stood a chance in court.


ESPN obtained the toxicology report from the night of his arrest. Tiger was wasted on a cocktail of powerful painkillers Vicodin and Dilaudid, plus the sleeping aid Ambien. To help calm his nerves, Tiger had taken Xanax and THC, which is the active ingredient in marijuana.

The night of his arrest, in late May, Tiger was basically a pharmacy on wheels. Police found him snoring inside his car that he'd parked in the bike lane. Apparently, the Ambien worked!
RIC FLAIR: WWE LEGEND RECOVERING
Wrestling legend Ric Flair is recovering after "successful surgery" on Monday.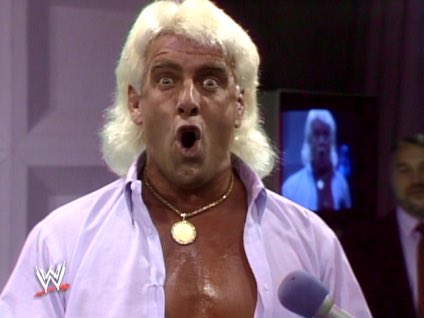 During the broadcast of Monday Night RAW, announcer Michael Cole said, "However, he is not out of the woods yet."

The 68-year-old "Nature Boy" was reportedly put in a medically induced coma before the procedure. There's still no word what he's suffering from. His camp will only say that Flair's dealing with "tough medical issues."

Despite reports, Flair's rep tweeted that the surgery was not
heart-related.
DEADPOOL 2: STUNT PERSON DIES ON SET
A stunt person died on the set of Deadpool 2 on Monday.
Vancouver police say the female stunt driver was killed while doing a stunt on a motorcycle.
Star Ryan Reynolds tweeted, "Today, we tragically lost a member of our crew while filming Deadpool. We're heartbroken, shocked and devastated … but recognize nothing can come close to the grief and inexplicable pain her family and loved ones must feel in this moment. My heart pours out to them — along with each and every person she touched in this world."

The woman has been identified as Joi "SJ" Harris, the first African-American woman licensed to compete in motorcycle road racing. Deadline says this was her first film as a stunt performer and that she was not wearing a helmet during the scene.

Production on Deadpool 2 began in late June. It's set to open June 1st, 2018.
OPRAH: WHY SHE AND STEDMAN AREN'T MARRIED
Oprah Winfrey is opening up about why she and he longtime partner Stedman Graham never got married.


The couple has been together for more than 30 years and Oprah tells Vogue that they did consider tying the knot at one point, but realized if they did, they wouldn't still be together. Oprah explains, "We would not have stayed together because marriage requires a different way of being in this world." She adds, "His interpretation of what it means to be a husband and what it would mean for me to be a wife would have been pretty traditional, and I would not have been able to fit into that
."